In the "Order Management" section, you can place and manage orders for TCC, IoT, and QR codes, as well as set alert thresholds for TCC, etc.
Order List
You can manage all placed orders in <Order List> and see order status in <Detail>.


In order to activate your IoT and/or QR codes, you must confirm receipt using the <confirm receipt> button, as described below:
IoT: When your physical IoT products arrive at your office, click <Confirm receipt> to confirm you have received the products. This will allow you to start using the chips.
QR Codes: When the system notifies you that your QR codes are ready, click <Confirm receipt> in order to print your QR codes and use them.
Note: as the status of your order updates, you may need to refresh the page. Depending on the size of your order, the time to generate your codes may take anywhere from 3 minutes to 30 minutes or more.

Order List
Once the receipt is confirmed, the ToolChain system will synchronize and associate VIDs with your IOT or QR codes. During synchronization, the order status will display "Synching VID data". Please wait a few moments and then reload the page. Depending on the size of your order, the process may take some time. The order status will be marked as "Received" once the VID association and synchronization is complete.

Order List
Once the order is marked "Order Completed", you can enter <Order status> by clicking <Details>.

From the details page, click <Check the VIDs List> in order to see the VIDs associated with that order.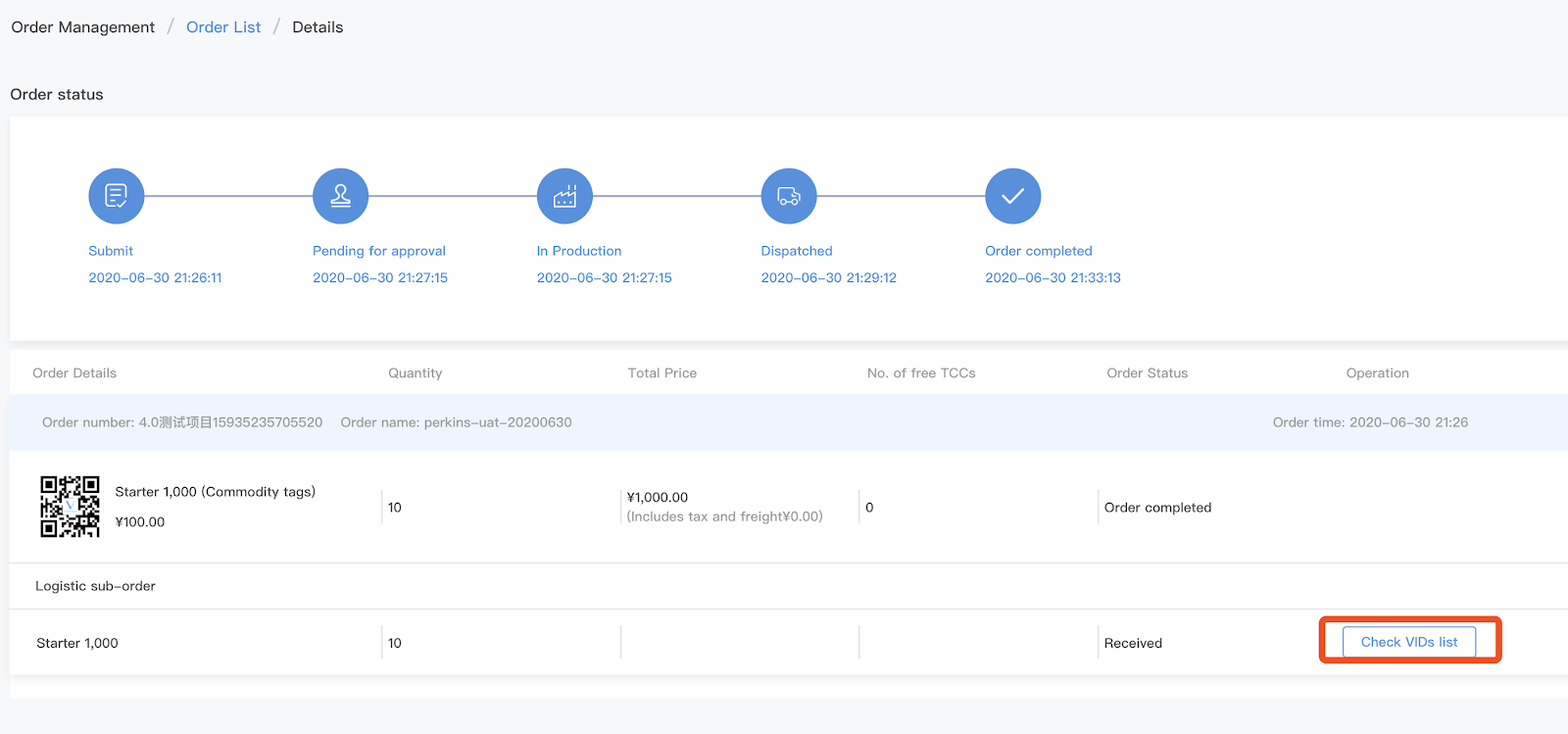 If you have ordered QR codes, click <Details> again to download and print the QR codes you ordered.
Click <Export> in the upper right corner to generate a file containing all VIDs in this order.


The "Set" Dropdown Menu
There are three additional functionalities present in the "SET" dropdown menu located next to the "New Order" button on the <Order List> page.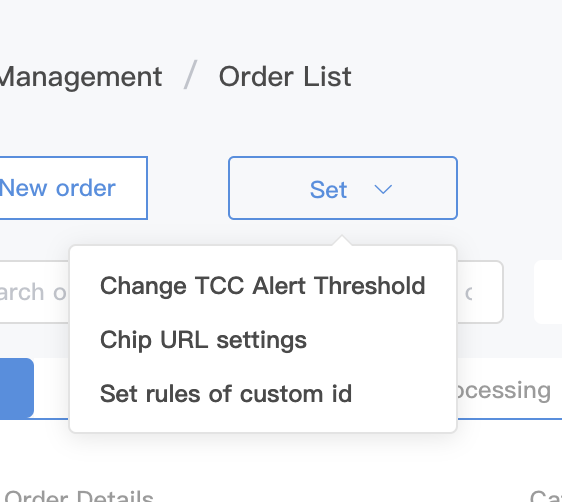 Change TCC Alert Threshold: When the number of TCC in your account falls below the warning value, the system will send an alert via email and platform notification. Please set your TCC value accordingly.

Chip URL Settings: If you choose to customize the URL on the NFC chip, once it is scanned, the customer will be redirected to this URL link; if not, the default URL will redirect the user to download the VeChain Pro App. Please speak to your service provider about the pros and cons of either approach.

Set rules of Custom ID:

Yo

u can create new custom ID and set up its name, rules, suffix, and length.

A custom ID can be made in two forms: "Prefix + Segment" or "Segment + Suffix". Once you have entered your custom prefix or suffix, please input "Length of Custom IDs" and the system will automatically generate IDs according to this length. Please note that the ID length is the total length of prefix/suffix and segment. For example, when the custom prefix is set as DOCG, and the ID length is 7, then a total of 1000 custom IDs will be generated automatically from DOCG000-DOCG999.
New Order
You can purchase IoT tags, QR codes and TCC using the <New Order> menu button, located under "Order Management".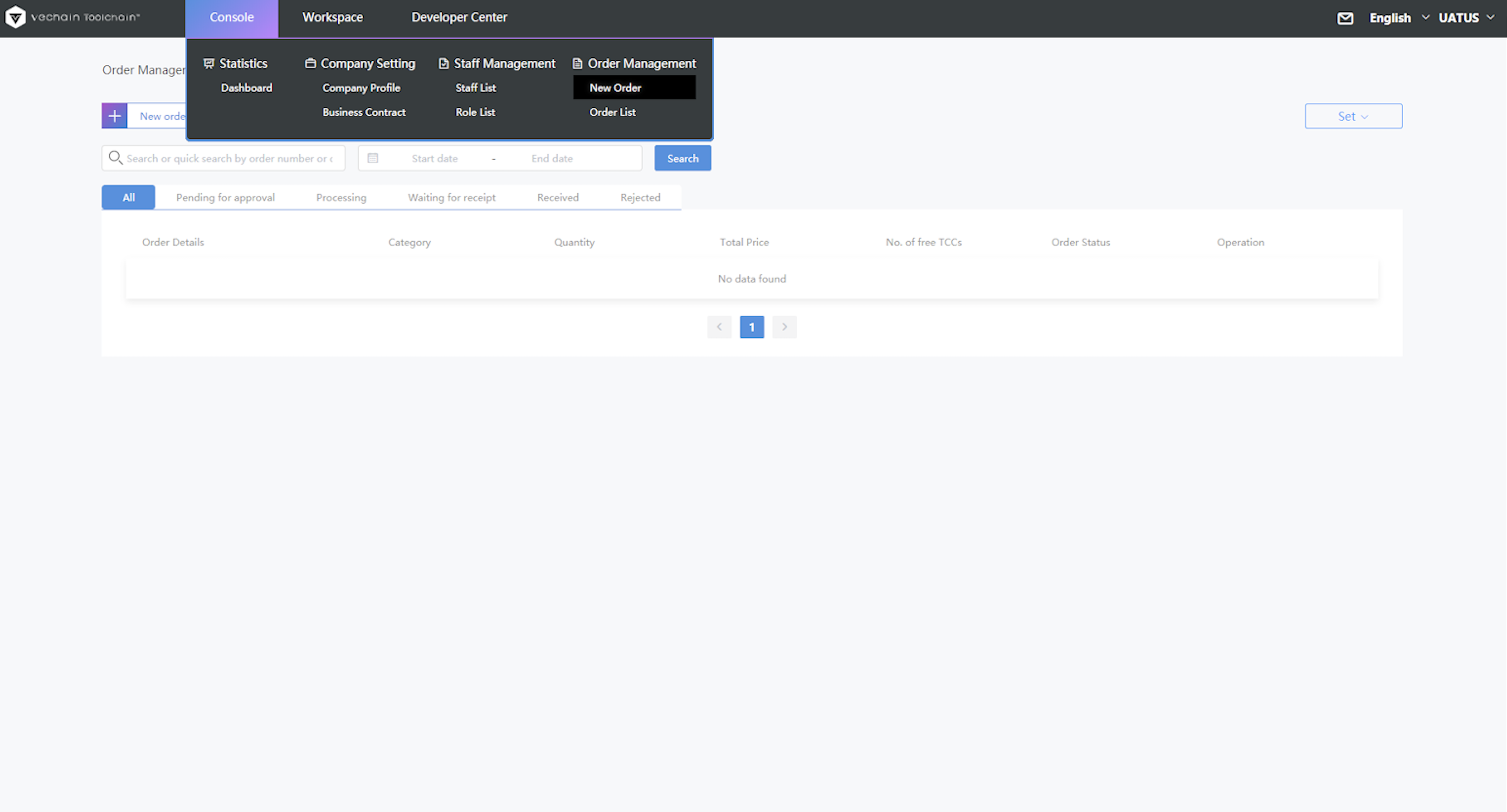 You can read more about the product details in <Product and services-detailed handbook>.
Here is the process to place an order:
Click the "New Order" button to enter the order page.

A default name is automatically created for your order. If you would like to customize it, you may enter a custom name for your order.

Purchase orders are placed for one item at a time. First, choose your product in the <Type of VID> drop-down menu (IoT tags, QR codes, IoT sensors and more), and then enter the quantity of the product you wish to buy. Repeat this process for each item desired.

Purchase TCC: select the desired TCC package from the options presented. The price will be calculated by the system automatically.

Go to Console -> Order management -> New order -> Purchase TCCs -> Confirm the order.
TCC in the sandbox environment will be automatically approved and it should be ready for use within a few minutes.

<Use Custom IDs> you can toggle this to indicate whether you'd like to use your customized numbering ID methods instead of using VeChain ID (VID). If you haven't created your own custom IDs, make sure you create them by clicking <set rules of custom ID> before placing the Order.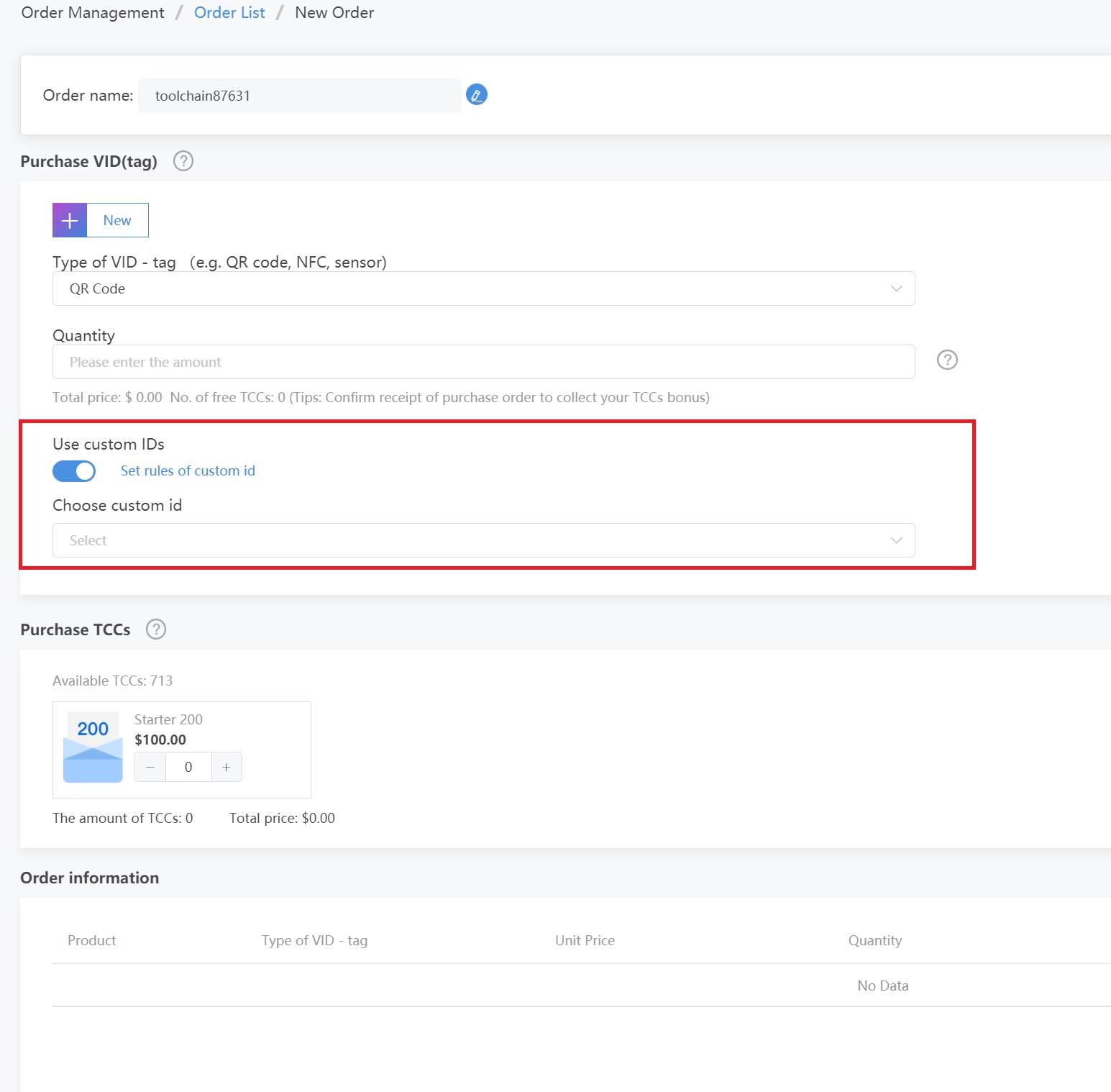 You can set the custom ID rules and give it a name accordingly by filling out the below form when you click <New>.

Note:

Give this custom rule a name in <Name> field

Select 1 out of 2 custom ID combination style (i.e. prefix + ID or ID + suffix)

Indicate the length for the number of digits in the ID section

Before clicking <Create>, you can see the system's preview of the IDs based on the rules you just set
Note: physical IoT products such as NFC chips will be shipped by a delivery service such as DHL to your home or office after ordering. Please provide valid <Delivery information> . Mandatory fields are marked with an asterisk.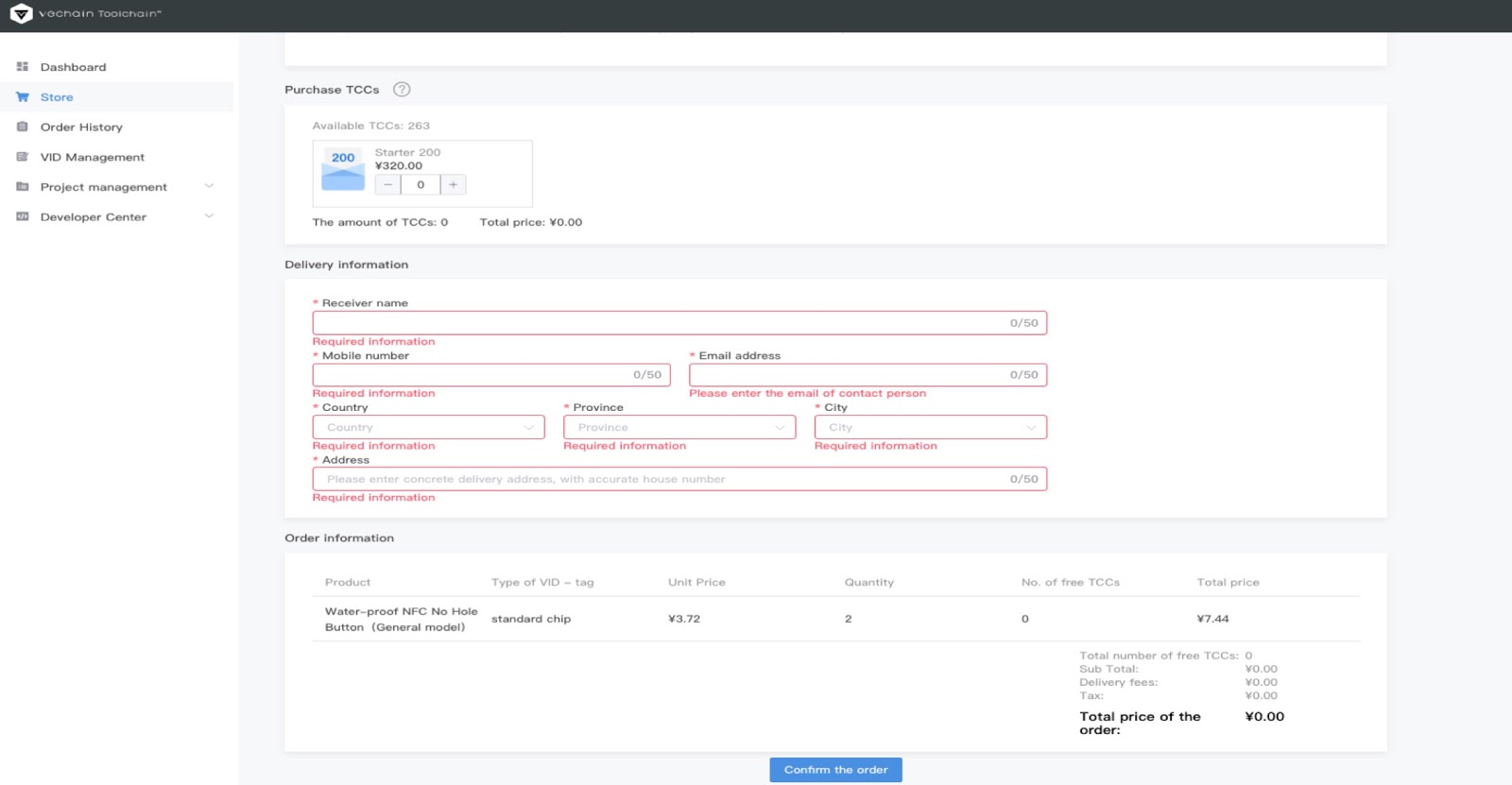 Once finished, click <Confirm the order> . You will then be presented with an order summary pop up for a final confirmation.