Based on countless discussions with senior management and innovation heads of enterprise clients, we identified an array of key focus areas from business owners when it came to their products. Responsible manufacturing, supply-chain oversight, real-time asset flows, sustainability and even the unique story of a product are attributes they sought to share, enabling enhanced brand engagement and novel ways to monetise data.
VeChain ToolChain™ facilitates this transparency, granting overarching insight of a product's legacy data, creating new ways to generate value for both consumers, brands and supply chain participants alike. With data securely and immutably stored on VeChain ToolChain™, trusted third-party service providers are able to further utilise these data, creating novel services and products in new, collaborative ways.
Valuable data in your business process:
Please check the following product framework of VeChain ToolChain™: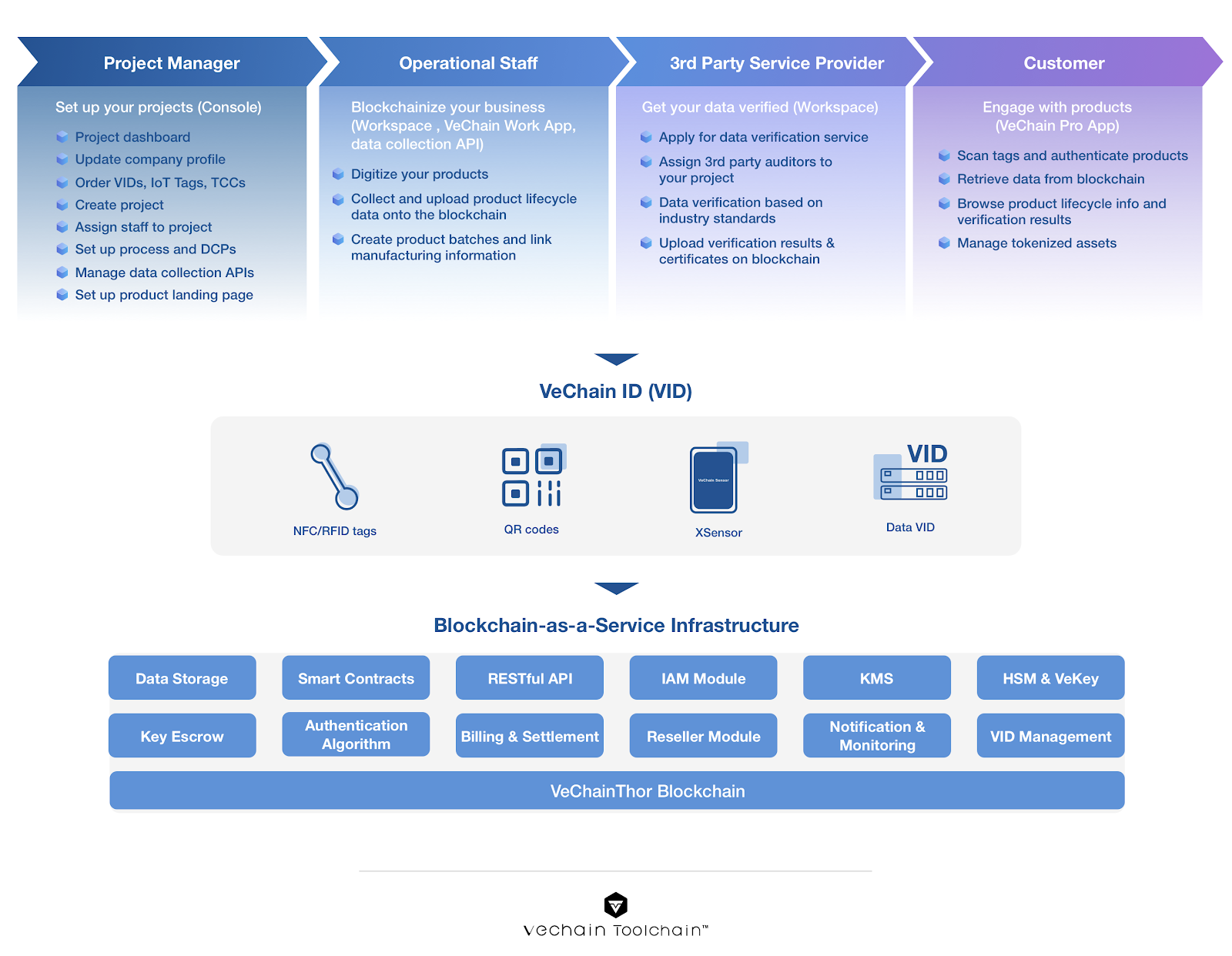 Enterprise Administrator
After user registration is completed, to start using the VeChain ToolChain™ the Enterprise Administrator needs to log into the VeChain ToolChain™ console to set up company profile, projects, data points, APIs as well as assign operational staff (such as manufacturing, warehouse, distribution and store) for data collection according to the defined process and data collection points. The built-in process builder allows Enterprise Administrator to use standard processes or create customized processes and data points that seamlessly integrate with your existing business process. The landing page builder can be used to upload customized landing page design to better demonstrate your business data on the blockchain to customers. The Enterprise Administrator can also order VIDs, IoT tags and TCCs (ToolChain Credits) in the console. Check the
Web Portal User Manual
to learn more.
---
Operational Staff
Staff assigned by the Enterprise Administrator collect and upload business data based on the defined process and data points such as SKU, traceability, and promotion info. You can choose to upload plaintext, pictures, files or videos as needed in the data collection point. VeChain ToolChain™ provides three methods to collect and upload data to meet your needs:
Data collection APIs to integrate with your existing systems, check API
---
Third-party Service Provider
Third party data verification service provided by DNV GL is available on the VeChain ToolChain™ platform. You can integrate the service with your projects to have the uploaded process data verified by trusted 3rd party online according to the industry standards at a lower cost. DNV GL auditors login VeChain ToolChain™ workspace to conduct data verification, and the result will be recorded on the blockchain and demonstrated on the product landing page. Check with your regional representatives to learn more. More 3rd party services such as insurance, supply chain finance, loyalty rewards will be introduced in the VeChain ToolChainTM platform to help businesses get extra value from the blockchainized process and data.
---
Customer
The VeChain Pro mobile app provides an interface for end users to interact with the VeChain ToolChain platform. End users can authenticate products by scanning QR codes or IoT tags and checking the unique landing page specific to a product. It is also a new way for the brand to engage with end users. Check the
VeChain Pro User Manual
to download.
---
VeChain ID
VeChain ID ("VID") is a unique cryptographic ID that is stored on the VeChainThor blockchain. VID identifies physical products or data sets and links the digital identity on the blockchain with the physical world by binding with QR codes or IoT tags. All the process data uploaded to the VeChain ToolChain™ platform is linked with VIDs. Check the
Workspace User Manual – Store
to learn more.
---
Blockchain-as-a-Service Infrastructure
The Blockchain-as-a-Service infrastructure layer encompasses everything that is needed for the platform to work seamlessly with the VeChainThor blockchain, taking all the blockchain complexities away from VeChain ToolChain™ users. The hardware-based key escrow and identity solution and fee delegation features brought by the VeChainThor blockchain allows secure usage of the blockchain application without deep knowledge of blockchain or cryptocurrency. VeChainThor blockchain is a Proof of Authority based public blockchain that keeps the immutability of the blockchainized data uploaded to the VeChain ToolChainTM platform while providing transparency.
To protect data privacy, we hash all data submitted via ToolChain regardless of the data upload methods. Only the hashes are submitted on chain.