Data Reference in this section is an advanced function. We recommend that you familiarize yourself with other sections in the User Manuals before diving into Data Reference. For more information, reach out to bd@vechain.com.
Introduction - What's Data Reference[1]
Most enterprises have well-established digital solutions, but many suffer from siloed solutions among subsidiaries and across partnering entities. ToolChain provides a platform of Data Reference which
Enables sharing data inputs across users, departments, and companies

Improves cross-functions, cross-subsidiary, and cross-company data capture efficiency

Empowers data contributors to own their data integrity

Reduces human errors in data capture

Enhances data reconcilability across departments, subsidiaries, and companies

Brings data transparency to end-consumers via the landing page and to regulators and companies of interests via self-built dashboards
ToolChain currently supports three types of data reference functions
Sharing within the same project in the same company account

For example, Product SKU List and Location List are maintained by user A, and used by 2 other users as part of their DCP inputs.


Sharing across different projects in the same company account

For example, Recycling Project's data inputs can be used by the Manufacturing Project when a recycled material is used.

Sharing across different company accounts
For example, a mushroom supplier sells the same products to three different buyers. The supplier only needs to share with the buyers its data inputs related to the products once, and buyers can continue to append traceability data to the mushroom moving forward.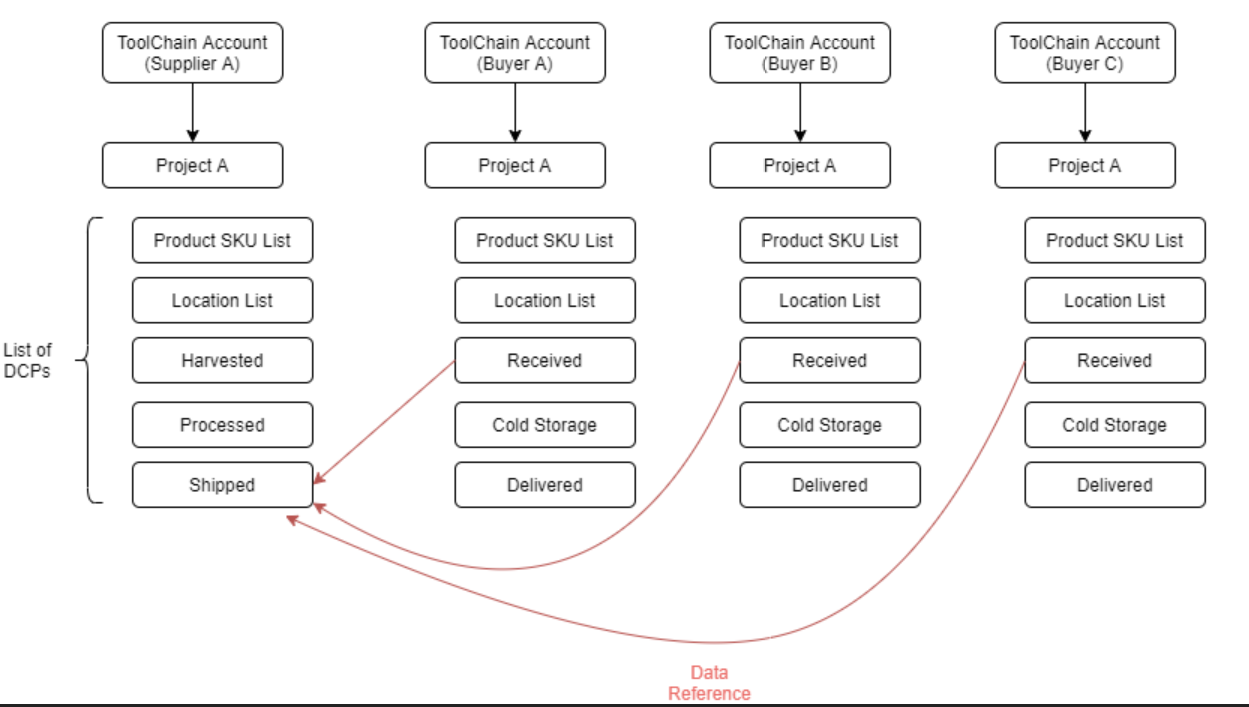 Data Reference function encourages data contributors to own their data and maintain its data integrity. It is important to note that Data Reference is referencing back to the original data source. It is not restoring data copies in your project environments. Should the data contributors update data sources, your data display will be updated. Should the data contributors discontinue business relationships and suspend data sharing to you, all of your previous AND future data references will not be able to be extracted and displayed.[2]
Two Building Blocks for Data Reference
There are two data reference functions in <Process Builder>.
Referencing a DCU
This is suitable when you're referencing one specific DCU

Use Short Text DCU and select DCP Reference In under the Data Source setting

Referencing an entire DCP
This is suitable when you're referencing at least one

DCP(s)

Use DCP Reference DCU

Instructions
Step 1: Build Data Reference in Process Builder[3]
Refer to the above <Two Building Blocks for Data Reference> section and <Process Builder> user manual for how to build your own process.
Step 2: Authorization
Prerequisites are:
You've complete Step 1 and submitted the Process

You've created project(s) using the said Process
Follow by:
Go to the project to be configured (Workspace > Project List > Configure)

There are two tabs, Data Sharing and Data Reference

Data Sharing tab is where you authorize your data inputs to other projects within the same accounts or other accounts.[4] Click new to complete the authorization (either other accounts[5] or within your account)

When you authorize data to another account, the receiving account will need to accept it by going to <Console> - <Project Setting> - <Details> - <Data Service> where you'll see a list of pending requests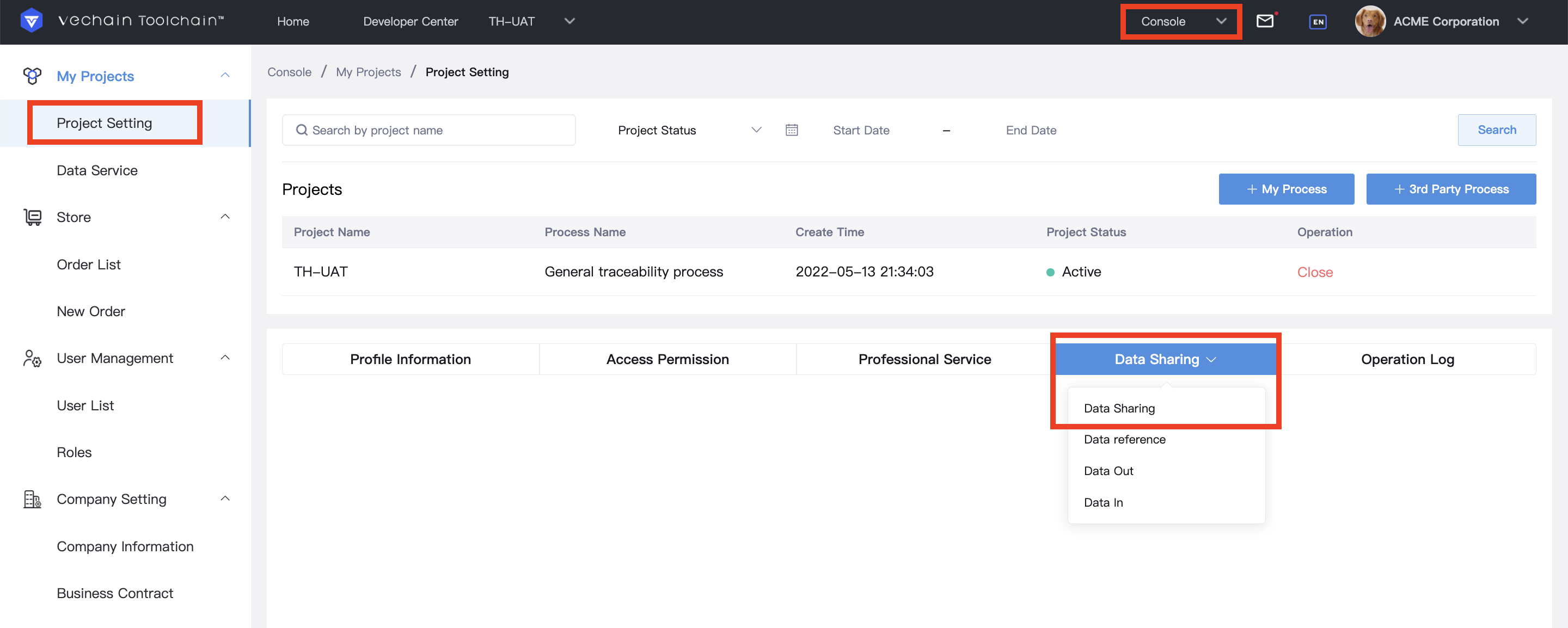 ---
Step 3: Map data reference into your project DCP and DCU
Data Service tab is where you associate the data you've been shared with to the DCP/DCU in your project.

Step 4: Start Uploading
In the sense of configuration in ToolChain, you're done with the setting now.

You need to be mindful of the ongoing management of data flow for reasons stated in the page 1 Introduction - What's Data Reference.
Tips:
It's always good to set the data sharing automatically so operators don't forget to share manually.

You should prepare for the growth in data volume by devising an easy-to-follow naming convention or ID keys that will follow through the end-to-end value chain.
---